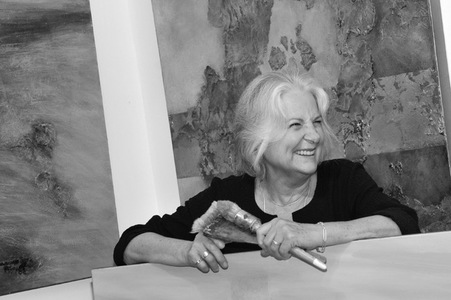 BIOGRAPHY
Roberta Pyx Sutherland is a contemporary Canadian artist who works in Victoria and on Hornby Island. From her first solo show at the Victoria Art Gallery in the 80's her work has continued to focus on the environment and the interconnectivity of all life forms.
She has taken the Shambhala Art teacher training, studied Ikebana with the Ohara School, printmaking at the University of Sheffield UK, and received her BFA (hon,) from University of Victoria. Sutherland continues her research attending residences at the Bau Institute and Studio Ginestrelle in Italy, in Canada Caetani House, and the Banff Centre.
Other related experiences, working for Oxfam in East Africa (where she initiated a ceramic school), studying Zen and calligraphy in Japan, and mandala painting in Boudnath, Nepal.
Among her teachers and mentors, Jack Shadbolt, Pat Martin Bates, Jack Wise, Paula Iacucci and Masafumi Yamamoto. Sutherland has exhibited in Canada, Mexico, Europe and the US. Her work is represented in a number of public collections including the Canada Council for the Arts, Burnaby Art Gallery, Art Gallery of Greater Victoria, Toronto Public Library, University of British Columbia, Concordia University Library, and the Bibliothèque de Genève.
She has taught at the Metchosin International Summer School of the Arts, as well as a mentored their artist in residence program. She is one of 50 artists featured in Canada's Raincoast at Risk: Art for an Oil-Free Coast. For many years she has been represented by Editart Gallery in Geneva who carry the work of Zao Wou-Ki, Calder, Miró Tapiés and other European artists.
A life long artist, Roberta Pyx Sutherland continues to be inspired by the relationships of cosmic patterning and divine intelligence.