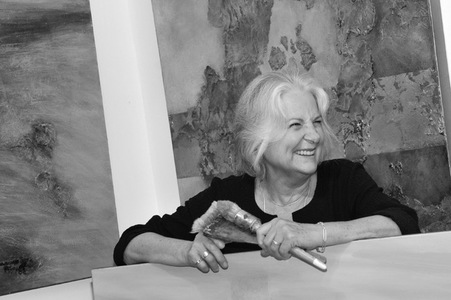 BIOGRAPHY
Roberta Pyx Sutherland is a visual artist living in Victoria and on Hornby Island, Canada. Her education includes a BFA (Hon.) from the University of Victoria, study at Emily Carr College of Art and Design, printmaking at the University of Sheffield UK, Ikebana Ohara School, and residencies at the Banff Centre, the Bau Institute, Studio Ginestrelle, and Shambhala Art teacher training.
Other related experiences include working for Oxfam in East Africa (where she initiated a ceramic school), studying Zen and calligraphy in Japan, and mandala painting in Boudnath, Nepal.
Her teachers and mentors include Jack Wise, Roy Kiyooka, Don Jarvis and Jack Shadbolt. Since 1982, the artist has exhibited in Canada, Mexico, Europe and the US. Her work is represented in a number of public collections including the Canada Council for the Arts, Burnaby Art Gallery, Art Gallery of Greater Victoria, Toronto Public Library, University of British Columbia, Concordia University Library, and the Bibliothèque de Genève.
For the Metchosin International Summer School of the Arts, she mentored an Artist in Residence program. She is one of 50 artists featured in Canada's
Raincoast at Risk: Art for an Oil-Free Coast
. Sutherland was chosen as Editart's Cercle des Amis artist Geneva Switzerland 2012.